Blue Leg Hermit Crabs
Caribbean Blue Leg Hermits make excellent scavengers. They will eat filamentous algae and cyanobacteria. These little crabs are very active and beautiful.
.99/ ea.
$23.75 for 25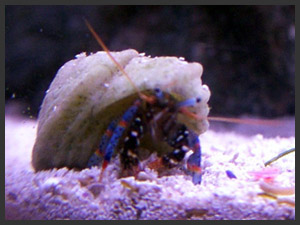 Scarlet Hermit Crabs

We are carrying these cute crabs due to popular demand. You've asked for them and now we have them. They get a little larger than the typical Blue Leg with about the with about the same temperament. Good all around cleaner.

$1.59/ea.
Sally Light foot Crabs

Here is a useful algae eater particularly when small. There have been reports of these crabs catching small fish for meals. Based on their claw shape and body configuration, they are designed for eating algae. My suspicion is that they may resort to catching food if there is not enough suitable algae for it. Will also accept frozen foods and flake foods as supplement.

$6.99/ea.
Emerald Crabs
These crabs are your best bet for naturally controlling certain nuisance algae like: bubble algae and hair algae. They are fairly active scavengers primarily working at night.


$5.19/ea.



Porcelain Crabs
These unique crabs are very entertaining.They have specialized mouth parts that are shaped like small baskets. They wave these baskets in front of them to catch food particles in the water. They are very reef safe and are primarily filter feeders, but will scavenge for larger particles of food as well.


$5.75/ea.
Horseshoe Crabs
Horseshoe crabs are fun to watch and are very good cleaners of detritous. These guys are not recommended for reef tanks due to their size and their digging nature. They go best in large aquaria with larger carnivorous fish ie.; Lionfish, Groupers, or Moray eels.

$5.49/ea.